Le 22 mai 2017, 09:54 dans Humeurs • 0
Fashion industry favourite Romance Was Born closes the week with a fantastical show.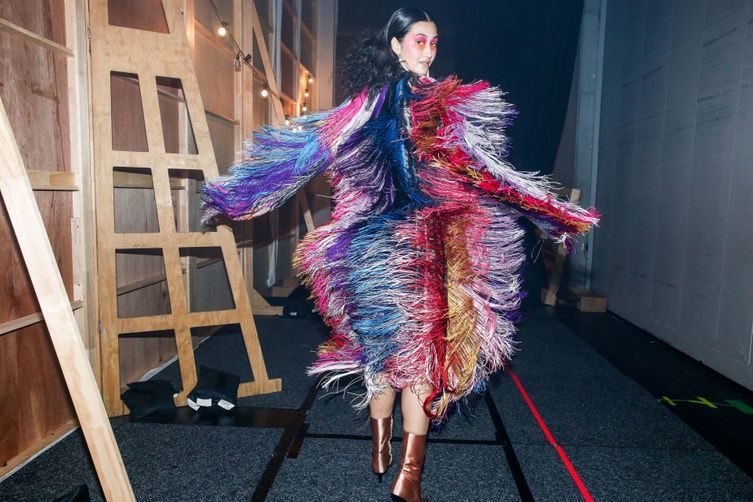 The place was set. Sumptuous flowers atop mirrored boxes. What a way to transform the Carriageworks space and to demand the attention of show-goers after five days of fashion shows. 
Anna Plunkett and Luke Sales of Romance Was Born looked closer for inspiration this time around, turning to their friend, artist Del Kathryn Barton. Calling their collection Electro Orchid after her 2014 exhibition of the same name, it explored similar themes of her art: "femininity, folklore and the cosmos". It is rich with references for Plunkett and Sales; just how they like it. Here, Barton's frenetic yet ordered pointillism is translated as bewilderingly beautiful embroideries, her female forms adorning embellished skirts and informing the celestial prints of the collection that made for an impactful closing collection for the week. While the original art exhibition had Barton musing on the different facets of womanhood, here for the Romance Was Born runway there was a cast of performers; there is the ingénue in the short pink negligee, the eccentrics, the sophisticates, the nudes (painted by Barton), a princess, the bride. Here is not where you come for a sensible suit; there are many other Australian designers who can fulfil that need.
The label's past work at times has been challenging – the crocheted Iced Vovo outfits, punk extra-terrestials, kitsch seashell outfits. There was less of these theatrics here which at best can be thoughtful and at worst distracting and gimmicky; this collection proved that now we get to focus on their singular vision for their brand. The most 'challenging' (single quotation marks included, because this barely even registers on the scale) is exposed breasts and two nude models painted with RWB-relevant slogans. Pretty light considering Tom Ford for Gucci had Carmen Kass reveal her pubic hair for an ad campaign 15 years ago, and the nude Sophie Dahl for YSL Opium images were made 17 years ago. And a sex tape can often be a help for a celebrity's career, not a hindrance. #freethenipple, right? And rather than the painted nudes, what had everyone else talking was the beauty of metallic ruffles, or the fantastical colourful fringing. A nod back to their landmark resort 2017 collection shown last year, a matching printed pyjama set made a re-appearance, backing the case that Plunkett and Sales are knuckling down on their brand's signature pieces.